28.06.2023: ESRIUM WORKSHOP
ESRIUM was among the projects featured in the two-day workshop marathon, along with AWARD and DIGEST projects. Each project participated in separate workshops, focusing on their unique areas of expertise. These workshops, conducted as part of the ISFO 2023 conference, facilitated in-depth discussions and knowledge-sharing among experts, further propelling the advancement of the field of traffic management.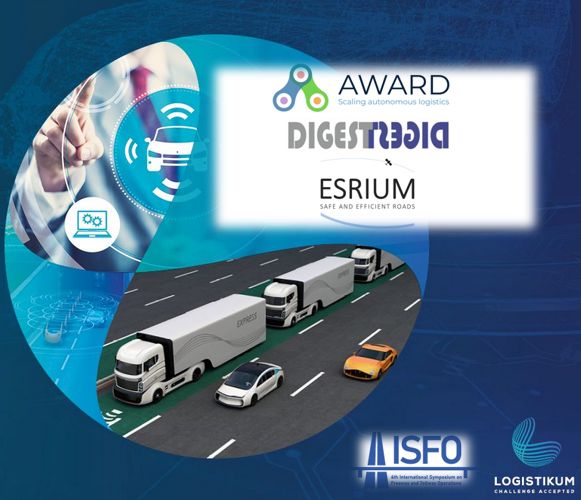 Got the chance to discuss lessons learnt of our ESRIUM project with an international expert group! Steven Latoski, Christoph Antony and Roland Spielhofer. The main question of the session was: "How to approach asset management intelligently considering all the possibilities and challenges these days?" For me a perfect match to our project goals and results as we investigated an AI-based low-cost very fast road surface sensing system to support road maintenance and traffic management purposes with #C-ITS messages. Thanks to Sandra Ulrich for perfectly organising and moderating this session!
Wolfgang Schildorfer
Professor for Transport Logistics and Mobility, Vice-dean for Research @ University of Applied Sciences Upper Austria
*ESRIUM Workshop: Intelligent Asset Management Information-driven, integrated, and sustainable towards the Future of Managing Traffic. ESRIUM's workshop centred around intelligent asset management. By leveraging information-driven and integrated approaches, this workshop aimed to provide insights into sustainable practices for managing traffic assets effectively. Participants had the opportunity to explore innovative strategies and solutions for the future of traffic management. Date: 28th June 2023, Time: 15:15-16:45, Moderators: Sandra Ulrich & Christian Honeger from ASFINAG, Room: City, Track C, Speakers: Roland Spielhofer, Christoph Antony, Steven Latoski, Wolfgang Schildorfer 
*AWARD Workshop: Implementing Connected and Automated Logistic Solutions. During this workshop, the AWARD project explored the implementation of connected and automated logistic solutions within the broader context of traffic management. Participants had the opportunity to delve into the challenges and opportunities associated with integrating advanced technologies into logistics processes. Date: 26th June 2023, Time: 09:00-10:25, Moderator: Aggelos Soteropoulos from AustriaTech, Room: Auditorium, Speakers: Alexander Barth, (#AWARDH2020 project AWARD-H2020) Konstantinos Mattas, Hany Hassan, Ph.D., P.E., Jacqueline Erhart, Manabu Umeda, Christoph Glauser, Organizer: Wolfgang Schildorfer
* DIGEST Workshop: Sharing Mobility Data for Traffic Management (Mobility Data Spaces and Platforms). The DIGEST project, on the other hand, focused on sharing mobility data for effective traffic management. With a particular emphasis on mobility data spaces and platforms, this workshop aimed to foster discussions on data-sharing frameworks and strategies that can enhance traffic management practices. Date: 26th June 2023, Time: 16:15-17:45, Moderator: Damaris Anna Gruber from AustriaTech., Room: Auditorium, Speakers: Tobias Schleser, Matthew Juckes, Wolfgang Schildorfer (#DIGEST project, DIGEST reference, doi: 10.1109/OJITS.2023.3266800 )
29.06.2023: ESRIUM DEMO TOUR
The ISFO-Conference Demo Tour to Graz provided an exciting platform to showcase ESRIUM's advanced sensor platform. The visit to Joanneum Research featured Matthias presenting ESRIUM, accompanied by a live demonstration using the Joanneum vehicle and sensor kit. Martina and Gerald made a dynamic 5-minute pitch, documenting the event with captivating pictures.
Showcasing ESRIUM at Joanneum Research:
During the tour, participants visited Joanneum Research, where ESRIUM's sensor platform was presented by Matthias. The demonstration showcased the practical application of ESRIUM's technology on the Joanneum vehicle, leaving a lasting impression on the audience.
Presenting ESRIUM at the Event:
Martina and Gerald from Joanneum Research delivered a succinct 5-minute pitch at the event, emphasizing ESRIUM's unique value proposition. They showcased the benefits and versatility of the sensor platform, leaving attendees with a clear understanding of its potential.
Capturing The Moment:
Martina and Gerald documented their presentation and demonstration with captivating pictures. These visuals will serve as a powerful tool to communicate ESRIUM's features and benefits to stakeholders, partners, and potential clients.
Conclusion:
The ISFO-Conference Demo Tour to Graz provided ESRIUM with an opportunity to showcase its cutting-edge sensor platform. Matthias's presentation and the live demonstration at Joanneum Research left a lasting impact. Martina and Gerald's concise pitch effectively conveyed ESRIUM's value proposition. The documented visuals will ensure the event's impact extends beyond its duration, highlighting ESRIUM's innovative solutions. This event serves as a stepping stone towards establishing ESRIUM's prominence in the industry