We are thrilled to announce that ESRIUM H2020 project will take part in the 15th ITS European Congress in Lisbon- THE GAME CHANGER! ITS 2023 (Intelligent Transportation Systems) is a globally recognized event that brings together experts, innovators, and policymakers in the field of intelligent transportation. With a focus on cutting-edge technologies, sustainable mobility, and smart solutions, ITS 2023 serves as a platform for sharing knowledge, fostering collaborations, and shaping the future of transportation.
*Stay tuned as we will update this blog with gallary at the end pf this page!
23 May 2023 at 13:30-14:30h – Congress Centre booth B3:Nordic+:
Director, at the
will pitch the ESRIUM Project under the title ´
GNSS and sensors for autonomous vehicle situational awareness´.

Join us at the Special Interest Session!
24 May 2023 at 10.30 CET – room #5B: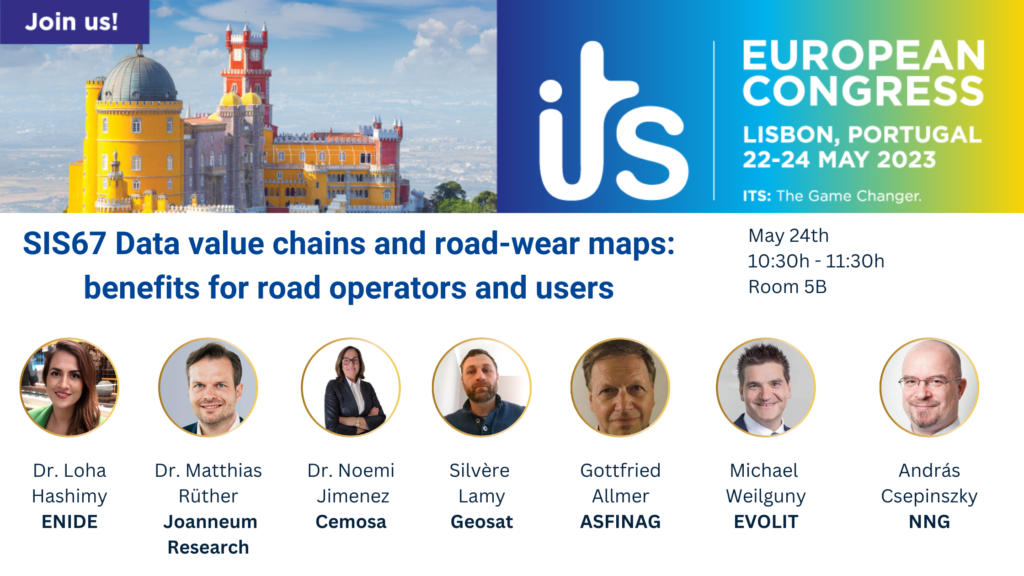 ABSTRACT:
This panel discussion will bring together experts from ESRIUM, GAMMS, ASFINAG, OMICRON,EVOLIT, NNG LLC to discuss the digitalization of road infrastructure and the data value chain. The speakers will discuss cutting-edge technologies and innovations in the development of infrastructure digital twins, building HD maps with AI, EGNSS localization, and how AI is used for decision support and maintenance. 
The panel will highlight the benefits of the data value chain for road operators and users. Experts from the ESRIUM project will discuss how precision EGNSS localization is used for building road wear maps, and how this information is integrated into digital twins of road operators. The benefits of this dynamic data service will be presented, such as fostering greener and smarter road usage, road maintenance, and increasing road safety. 
The panel will also explore how AI can support decision-making and maintenance and the legal consequences of using these technologies. Additionally, the speakers and audience will discuss standardization, regulation and operational aspects related to the use of technologies for road asset management. 
PARTICIPANTS:
Moderator Loha Hashimy- ENIDE- Innovation Manager (Expertise and Contribution: Loha Hashimy has a PhD in economics and more than 7 years of experience in innovation management and commercialization of R&D projects).  
ESRIUM – Matthias Rüther- JRD- ESRIUM Project Coordinator (Expertise and Contribution: Matthias Rüther holds a Ph.D. degree in computer vision is the head of the institute DIGITAL of Joanneum Research, Austria's second-largest research and technology organization).  
OMICRON – Noemi Jimenez Redondo- Cemosa- Omicron Project Coordinator  (Expertise and Contribution Noemi holds a PhD in Industrial Engineering and more than 15 years of experience in European and Spanish R&I projects covering a wide range of areas including materials, energy, digitalisation, transport infrastructures and mobility).  
GAMMS – Silvère Lamy- Geosat- GAMMS Project Coordinator (Expertise and Contribution:  Silvere has 10 years of experience in image processing engineering in the vision industry and satellites imagery. Then, 3 years in geomatic and mapping as Project manager for European and national research projects). 
ASFINAG – Gottfried Allmer- ASFINAG– Service Manager for Traffic Data Content (Expertise and Contribution: Gottfried has 13 years of experience as Service and Project  Manager for Austria's highway operator ASFINAG. He has previously worked in the software development industry and is currently involved in the digitalisation programme of the Austrian Ministry for Climate Action and Energy, which is also in charge of traffic). 
EVOLIT Speaker: Michael Weilguny (Expertise: With his technical training, Michael has been in sales for almost 30 years and is the interface between IT specialists and customers. With his team at Evolit, he develops complex software solutions that result in competitive advantage for his partners and customers. He is IT specialist and digital supervisory board member). 
NNG – András Csepinszky (Expertise and Contribution: András has 15+ years' experience in the automotive industry, from customer projects to complex EU funded research and innovation projects. He is also actively participating and contributing to automotive and ITS standardization in different standardization organizations such as ISO, CEN, SAE, TISA, NDS, ADASIS and SENSORIS. He is successfully connecting these activities together providing standards' related support to EU projects and contributing to standardization on behalf of the EU projects eg. ESRIUM, Hi-Drive, FAME). 
This part is an update with the photos from our activities at ITS! The 15th ITS European Congress in Lisbon, has been a blast. We look back at what has been an amazing week – enjoy the gallary!