The 34th Control – International Trade Fair for Quality Assurance – took place from 03 to 06 May 2022 with great success. After the two-year break due to the pandemic, over 600 exhibitors finally experienced Quality Assurance innovations live and up close again.
Control is traditionally a firmly established marketplace of innovations. Automation and digitalisation, contactless processes, remote services, small batch sizes, zero-defect manufacturing, data analyses and end-to-end process traceability have given a new necessity to quality inspection and quality assurance of any process – in all sectors, both in the industrial sector and now also in the service environment. The ultimate focus of the event forum is on the practical implementation of QA know-how. 
Why did ESRIUM participate?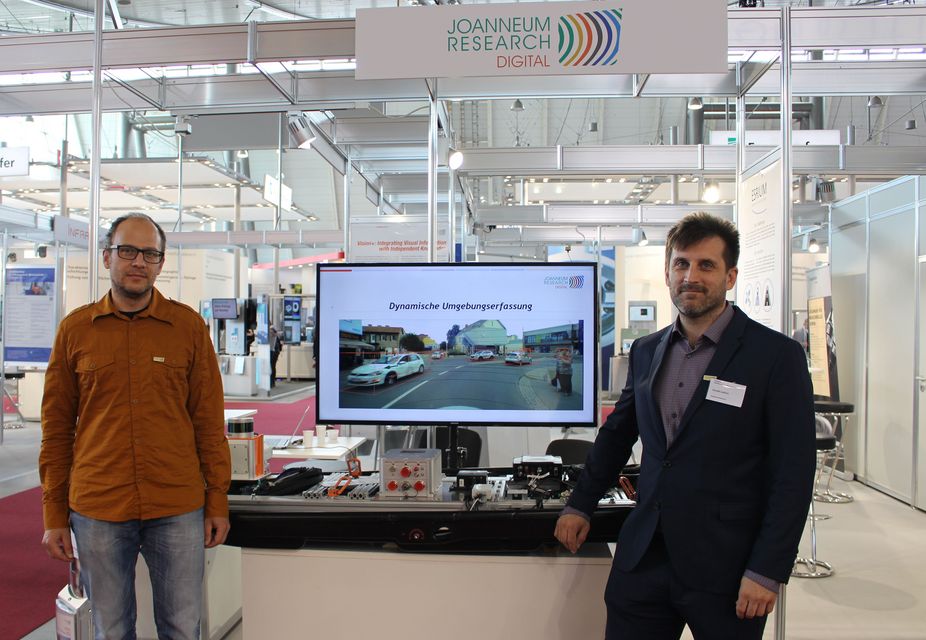 Control focuses on technologies in the context of quality assurance hence: "The main topics of the fair are measurement technology, analysis devices, optoelectronics, organization, QA systems and material testing to ensure the quality of goods from manufacturing companies.¨ Such inputs are relevant for ESRIUM, where transport becomes smarter by leveraging the detailed driving recommendations received from the road operator in each automated and connected vehicle. Efficiency and sustainability are also important factors in developing new technology that can reach the highest standards and be applicable to generate route recommendations for safer and greener roads.
DI Alfred Rinnhofer, DI Dr Manfred Klopschitz and DI Gerald Lodron from the Machine Vision Applications (MVA) Group of Joanneum Research presented there (as part of the Fraunhofer Gesellschaft stand) the latest results around the sensor platform they developed for ESRIUM.
You can see and download the presentation in German here and a post in German here.
The project aims to increase the safety and resource efficiency of traffic on European roads. The key innovation is a digital map of road surface damage and wear. This map will provide unique information for road operators to improve road maintenance planning and suggest optimised road use for automated vehicles.
Want to meet us in other events? Keep following ESRIUM on Twitter and LinkedIn to keep updated with its next developments.
We also have a YouTube channel. Join us there too!