University of Applied Sciences of Upper Austria presented the ESRIUM requirements for future CCAMs services at ASECAP Days 2021 on 10th November 2021.
What are the ASECAP Days?
ASECAP Days are the annual event promoted by ASECAP, the European Association of Operators of Toll Road Infrastructures. The main goal of the association is to defend and develop the system of motorways and road infrastructures in Europe. Additionally, ASECAP exchanges information among its members regarding the construction, maintenance and operation of toll infrastructure. 
The 48th edition in 2021 was titled "Regaining trust and confidence to boost the economy and to recover from the pandemic" and focused on lessons learnt and on how it would be possible to foster safe and mobility solutions to boost the economy and recover from the pandemic crisis, including in the road infrastructure sector.
Why did ESRIUM participate?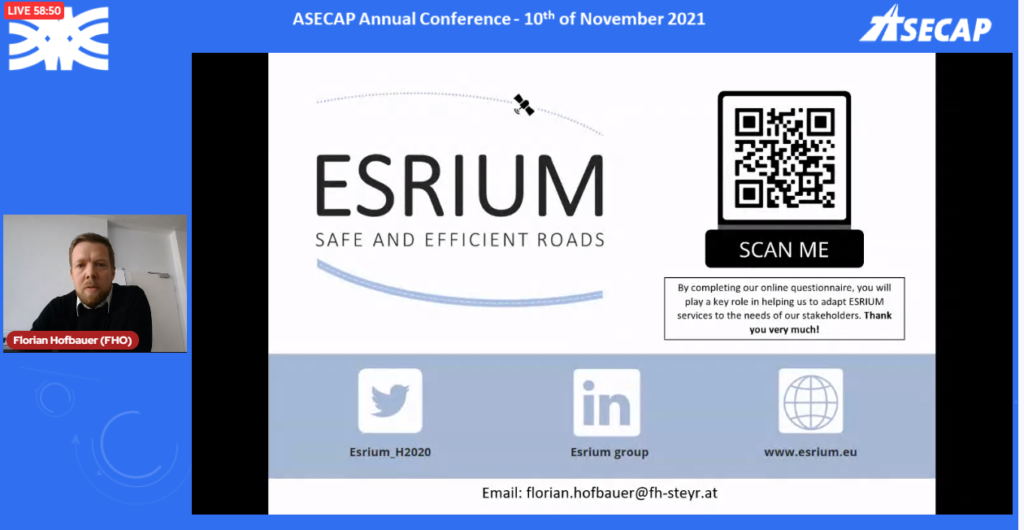 Florian Hofbauer from the University of Applied Sciences of Upper Austria participated in Parallel Session 2 "Digital transformation on road infrastructure" moderated by Jacqueline Erhart from ASFINAG.
His presentation dealt with the requirements related to future CCAM Services for Road Usage Optimization.
Do you want to know more? Check out the presentation.